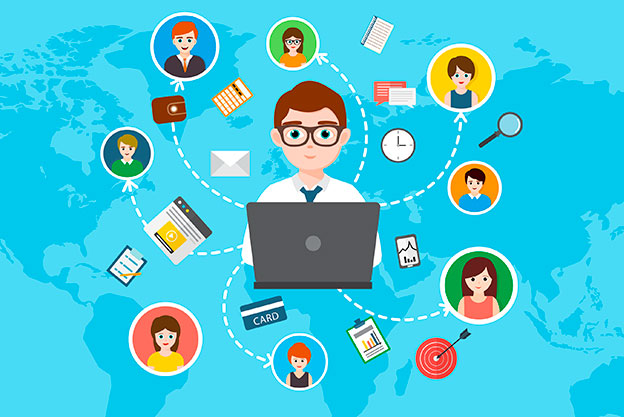 At one point online marketing was just a new and different way to market. It opened up a new form of media on which to peddle goods and services. But within just the past few years, the importance of digital marketing has become something else. It's become an integral part of what a business is to its customers.It's no longer enough to have a website or run some un-focused Ads campaign. Don't have integrated digital marketing strategies working for your business? Time is working against you because of it.
Digital marketing is a valuable asset to your business's growth and helps you establish an authoritative online presence. In fact, 89 percent of marketers say methods, like search engine optimization (SEO), are successful. Additionally, methods like pay-per-click (PPC) advertising increase brand awareness as much as 80 percent.
Why is digital marketing important?
Each company will have different specific goals in mind, but most are trying to achieve growth by reaching more consumers and convincing them to purchase. To do this effectively, you have to take advantage of all the most valuable marketing resources and technologies, and in the modern world, the internet tops that list. This makes every business in need of digital marketing. As the Internet becomes entwined with everything we do, the importance of digital marketing is becoming crystal clear.
Let's take a look at why your business needs digital marketing to grow and thrive.
01.Levels the Playing Field for Small Business You've seen it happen before.
A huge company like Walmart comes to town and wipes out 100's of local specialty shops. Starbucks rolls in and mom and pop coffee and bagel shops close down. We've seen the online equivalent of this with Amazon. It's hard to compete with the name recognition or the millions that they put into marketing and reputation management. That's where the importance of digital marketing shines as a beacon of hope for small businesses. It's the same for brick and mortar, ecommerce, and personal brands alike. Digital marketing actually allows smaller businesses the ability to hold a top-ranking position, like a client we helped outrank Amazon and Lowe's using our AdWords services.
Digital marketing allows you to compete with your competition by exposing you to a wider audience on a much smaller advertising budget. When managed effectively, it gives businesses laser-focused control over where and how they spend their money. When you have this kind of control and the data to support decisions, you make smarter ones. Continue to explore the benefits and importance of digital marketing. Just how it levels the playing field becomes increasingly clear.
02.Reaches People Where They Spend Their Time & Money.
In 2019, the average Internet user has at least 7 social media accounts. That's up from 3 just 5 years ago. 97% of US adults under 65 are on social media at least once a month. The vast majority are on it every day. Social media is strongly preferred as a means of customer care. Although as many as 89% of customer messages are ignored by businesses 22% of the world population is on Facebook. 62% of people in the US are there. 76% of Facebook users and 51% of Instagram users are on it every day. 30% of people on social media mention a specific brand when referring to milestones in their lives.
Gen X is slightly more likely to interact with a brand on social media than millennials. The trend right now is the average person spends over 2 hours a day on social media. Teenagers average 9 hours. Social media is integrated into everything they do from school, to work, to entertainment, to hanging out with friends. Social Media is where people are. But do people buy things there? One of the top 10 reasons people say they're on social media is to buy products advertised to them. They spend around 37% of their social media time interacting with branded content.
57% of Millennials say that social media has made the ads they see more relevant to them. 48% of people say they made their last online purchase as the direct result of a Facebook ad.
But only 45% of marketers think their social media efforts are paying off. There are definitely some winners and losers on social media. Just having a profile and sharing some content once in a while isn't enough. You need a social media marketing strategy. When you understand how to maximize your ROI in social media advertising, you win big. Social media marketing and advertising are only a piece of digital marketing. But it's a very important one. Throughout this article, we'll look at many kinds of online marketing methods. This will show the importance of digital marketing to your business.
03 The problem with this approach is that your customers and potential customers are already online.
Right now. Today. There's a good chance prospects might already be looking for a business like yours, but if they can't find you easily, they are probably going to choose someone else.This is how people do business today. When someone has an interest in your business, whether it is in your niche in general or if they are curious about your brand, the first thing they are going to do is research online and see what they can find out about you.
04 Competitors
For your business to be successful, you need to pay attention to what your competitors are doing and learn from it.Think of your competitors not just as someone that you are planning to beat, but as people who have something to teach you. When you look at what your competitors are doing, you will get some idea of what is working and what isn't working. Most likely, whatever type of business you are in, your competitors have established a web presence. What kind of content are they using? Are they blogging, or are they using a lot of graphics and videos?
05 Accessible
It's clear that in today's digital world, the first place the average consumer looks for what they want is online. Whatever product or service they are looking for, they will most likely start their search with Google. If you have no online presence at all, you won't be found, and you can't compete. If you have an online presence but your competitors are easier to find and are found first, you still might not be found at all. Besides creating a website, learning search engine optimization is a strategy that can help you move ahead of your competitors just by being the first name that a prospect finds in a Google search with keywords that can lead them to your business.
06 Target
Potential Digital marketing allows you to engage with your prospects. You can gradually get to know them and what they are hoping to find. On social media or on a blog you can start a conversation. Run a survey or try to get to know them. Pay attention to their comments or their responses to surveys. By interacting with people digitally, you can start to get to know what they are looking for. Where is their pain? What is keeping them up at night? What solutions can you offer to them? Instead of trying to guess, digital marketing allows you tools and methods for finding out who your customers really are. In this way, you start to build a relationship with your customers. You become much more than a business. You become a trusted partner. People are much more likely to buy from businesses that they have already bought from.
07 Monitor Campaigns
The importance of digital marketing is that you can easily track and monitor your campaigns. When you invest time and money into your campaigns, you want to know that they are working. Digital marketing makes it easy for you to track your campaigns, which allows you to adapt and drive better results. When you use traditional methods, it's challenging to know the results of your campaign. If you run a TV ad, you may have to ask every person that comes into the store about what brought them to your business. It would be a very time-consuming effort that could annoy people who visit your business.
With digital marketing, you don't need to worry about bothering your audience. Every campaign you run is trackable. You can easily track a campaign's ROI and other indicators to see if it is driving valuable results for your business.
08 Trends
Digital marketing allows you to respond to popular trends in real-time. This helps your business take advantage of consumer response to current events, trends, topics and technologies. Whether your brand is using the latest technologies to reach out to customers, communicating in conversations about popular current events, or using the most popular platforms to deliver targeted ad content, digital marketing makes it possible to stay ahead of the game. By taking advantage of what's popular in the moment, businesses can increase their visibility online and reach more leads and customers.
The immediacy of digital marketing allows you to respond to these trends quickly. Whereas it takes time to develop, produce, and distribute traditional marketing collateral, digital marketing tactics work a bit more quickly. For instance, if you need to communicate something to your customers and leads quickly, you can work to develop and publish blog or social media content within the hour or use SMS marketing to deliver the message to your customers and leads immediately.
09 Customer Relationships
Another reason why digital marketing is a must for most modern brands is that it allows companies to foster better customer relationships. Whereas most traditional marketing provides one-way communication with the consumer, digital marketing allows for two-way communication in real time. This makes it easier for brands to effectively address their consumers' questions and concerns without delay while also fostering brand relationships through quality consumer engagement. Social media is a great tool for improving customer relationships.
Social media platforms like Facebook and Twitter allow brands to communicate with customers and engage them in a significant and genuine way. When customers have questions or concerns, they will often contact a business on social media for information or resolution. The fast-paced nature of social media allows companies to address these questions and concerns quickly before they escalate. By improving customer service relations, social media also helps improve overall customer satisfaction rates, which can lead to repeat sales and customer referrals.
Digital Marketing is quite imperative for any company (be it a new one or an old one) to understand the impact of technology that has done to the market and accept Digital Market as a medium to attract and increase their customers
There are common misconceptions about digital marketing
1.Digital marketing is synonymous with Computers
Digital marketing makes use of several platforms like computers, smartphones, tablets, game consoles, television, radio, as well as electronic billboards. From interactive advertisements and personalized e-mails to websites for mobile phones, digital marketing uses one or several forms of electronic media to reach out to consumers.
2.Digital marketing is only for big businesses
Busting this popular myth, we would say that digital marketing is beneficial for big and small businesses alike. You do not need a call center to engage and communicate with customers, you can sell your products directly to a global consumer base without having to establish a physical shop. And, most importantly, digital marketing will fetch you valuable insights and data regarding the buying preferences of your target consumers. Thus, you do not need backup from any marketing research company.
3.Only massive website traffic can make digital marketing successful
One of the many prevalent digital marketing misconceptions is that the digital market owes its success to vast website traffic. On the contrary, the effectiveness of digital marketing lies in engaging the right kind of consumers visiting the website. The key to successful digital marketing is focusing on the target customer base which is genuinely interested in the products and services that your business has to offer.
4.Digital marketing is not integral to a company's business strategy
Contrary to this misconception, digital marketing should be an essential part of the company's business strategy. With more and more people using social media and online searching for product information, the company's website serves as a 'shop window' for interacting with the continuously growing base of online customers. A company's online presence plays a significant role in determining the market impression of the company, its future successes, and failures.
5.Digital marketing is a technical aspect
Another myth surrounding digital marketing is that it is a purely technical feature and the sole responsibility of computer specialists. However, besides being a practical technological tool, digital marketing is a crucial marketing skill and has to be embraced and adopted by every person in the company at all stages. It is not enough to know just the technology; the success of digital marketing initiatives also depends on a profound understanding of marketing and business sensitivities.
6.Designing a website is enough for digital marketing
Online customers are always on the lookout for the latest information on the products and services of their interest. As a result, the online marketing platform is very dynamic and continuously evolving to keep up with the demands of consumers. In such a scenario, merely creating a website is not enough. Companies should focus on continually updating the website content to ensure a significant number of website visitors.
7.Optimizing websites for mobile devices is not necessary
It is more convenient to access product websites while on the move on smartphones and tablets. Naturally, customers will expect a professional and genuine website to be optimized for mobile devices, and if not, they'll click away to a different one. If a website is not optimized or it is repetitively asking customers to download an app, then the company fails to create a lasting impression of the brand. Thus, website optimization is essential. It is easy, cost-effective, and possible through online web-building tools.
8.Criticism on social media is harmful to business
Out of the many digital marketing misconceptions, we cannot stress enough on the untruthfulness of this one! Legitimate customer complaints regarding your product or service should be addressed directly and considered a valuable opportunity for business improvisation. Instead of covering up genuine concerns and comments from customers, the company should provide a helpful response with the option to contact the customer service, with subsequent internal follow-up of the issue.
9.Search Engine Optimization (SEO) is a dead concept
A common myth doing the rounds is that Search Engine Optimization, or SEO, is dead. We would say that this is incorrect. Even though apps and social media have emerged as strong players in the digital market, the good old use of search engines continues to rule a large portion of web traffic. Whenever customers need information about a particular brand or product, they instinctively resort to search engines for online searching.
10.Online goals and metrics are all that matter
Your digital business and marketing strategy can be based on many goals and metrics like followers, page views, likes, and comments. While these metrics are a great way to gauge the success of your company, they can often be misleading. Instead of solely relying on these superficial parameters, the company should stress on the finer aspects, such as the time spent on the website, abandoned cart for e-commerce sites, and the rate of website visitors converting into paying customers.
Author – Indresh Ghansiyal
Team Wondact