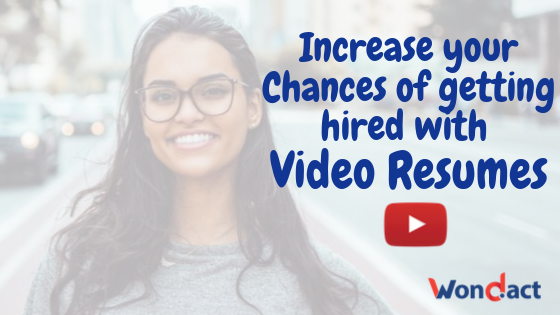 Is looking for a job getting more complex for you? Do you apply not to be even considered for various opportunities? You might be missing on something which might land you choose your job instead.
The business world orbits around creating ease and comfort. The same goes true for the recruitment market. Recruiters always look for easily relatable and accessible candidate profiles. A recruiter makes the initial scrutiny in the pool of candidates by the first few seconds interaction with the written resume. He doesn't have the liberty to judge the personality, communication, confidence and other soft skill of the candidate at first.
It is the duty of the candidate to present themselves in a simple yet impactful way to the recruiters. In this cut-throat competition, having a video resume pays off with ease. It presents the candidate with much more opportunity to present himself and get shortlisted. So, what exactly does video resume entail?
Do You Need a Video Resume?
Video resumes help attract recruiters by explaining your soft skills & expertise along with the mentioned achievements. A well-done video resume positions you ahead of the crowd. Further, it gives you an opportunity to present your personality and the real-life version of you, better than on a piece of paper.
Video resumes help you speak loud on your vital skills and grabs the recruiter's eyes. So, hire a professional team to get a video resume. Then be ready to choose your job.
Stunning Facts of Video Resumes:
The stats say that only 17% of employers have come across the video resumes. Why don't you leverage this winning edge where there is less competition?
89% of hiring managers are willing to spare time to watch your video resume.
Landing on your dream job is twice likely with a video resume.
Video resumes started back in the 1980's but were confined to the top brass of limited professions.
Video Resume Tips
Making of an amazing video Resume
A resume having a great engaging script and professional filming style with an interactive background serves the purpose.  Consider your target and include all the related data and expertise to back your skills.
Don't just rephrase what you have in your traditional resume. It is through video resume, the recruiters, or the clients should understand your communication, confidence and overall personality. Let the video narrate your accomplishments and your struggle, memories, the trust of previous organizations behind it. Be Human, show your emotions as you speak.
Well-Organized Script:
Once you decide on the points to be highlighted, have an organized script focusing on all the impactful points. Market your talent explicitly and be expressive. The world needs to know that you exist and only an engaging story can get you eyeballs. Talk about your passion for your subject and what have you achieved, mention about your journey and what have you achieved from the skill set you have earned during the years.
Increase your Reach:
Video resumes give a bang of opportunities. The tone of the video changes with every profession. Having confidence, humility, humor. Video resumes leave impacts on the recruiter and the client. They remember your resume even after going through hundreds of other resumes in a hurry. This is the real advantage of having a video resume.
Gives a Control on what you Say:
Videos are the most expressive form of content today. It enables you to bring out the genuine feel and your passion for work. Irrespective of the mood of the recruiter, these videos help in creating an impression. Never compromise in adding incredible tone and personality to your pitch, especially when it comes to video resume.
So, what are you waiting for? Try sending a video resume with your job pitch and get amazed at the conversion rates. All you need is a professional who comes up with original scripts and an attractive video to engage your audience. Avail the services of video agencies to create big impact and land on your dream job.